Monthly Archives: May 2017
Whether you are buying or selling a home it can be quite an adventurous journey, which is why you need an experienced real estate professional to guide you on the path to your ultimate goal. In this world of instant gratification and internet searches, many sellers think that they can For Sale by Owner or FSBO.
The 5 reasons you NEED a real estate professional in your corner haven't changed, but have rather been strengthened by the projections of higher mortgage interest rates & home prices as the market continues to pick up steam.
1. What do you do with all this paperwork?
Each state has different regulations regarding the contracts required for a successful sale, and these regulations are constantly changing. A true real estate professional is an expert in his or her market and can guide you through the stacks of paperwork necessary to make your dream a reality.
2. Ok, so you found your dream house, now what?
There are over 180 possible steps that need to take place during every successful real estate transaction. Don't you want someone who has been there before, someone who knows what these actions are, to make sure that you achieve your dream?
3. Are you a good negotiator?
So maybe you're not convinced that you need an agent to sell your home. After looking at the list of parties that you will need to be prepared to negotiate with, you'll soon realize the value in selecting a real estate professional. From the buyer (who wants the best deal possible), to the home inspection companies, to the appraiser, there are at least 11 different people who you will need to be knowledgeable of, and answer to, during the process.
4. What is the home you're buying/selling really worth?
It is important for your home to be priced correctly from the start to attract the right buyers and shorten the amount of time that it's on the market. You need someone who is not emotionally connected to your home to give you the truth as to your home's value. According to the National Association of REALTORS, "the typical FSBO home sold for $185,000 compared to $245,000 among agent-assisted home sales."
Get the most out of your transaction by hiring a professional.
5. Do you know what's really going on in the market?
There is so much information out there on the news and the internet about home sales, prices, and mortgage rates; how do you know what's going on specifically in your area? Who do you turn to in order to competitively, and correctly, price your home at the beginning of the selling process? How do you know what to offer on your dream home without paying too much, or offending the seller with a lowball offer?
Dave Ramsey, the financial guru, advises:
"When getting help with money, whether it's insurance, real estate or investments, you should always look for someone with the heart of a teacher, not the heart of a salesman."
Hiring an agent who has his or her finger on the pulse of the market will make your buying or selling experience an educated one. You need someone who is going to tell you the truth, not just what they think you want to hear.
Bottom Line
You wouldn't replace the engine in your car without a trusted mechanic. Why would you make one of the most important financial decisions of your life without hiring a real estate professional?
Blog Post via KCM Blog
The employment landscape and wages have both improved over the last few years, allowing for more people to participate in the home-buying process. When the economy is in good working order, as it is now, it creates opportunities in residential real estate, and right now is a potentially lucrative time to sell a home. Houses that show well and are priced correctly have been selling quickly, often at higher prices than asking.
New Listings in Chicagoland were down 8.9 percent for detached homes and 5.0 percent for attached properties. Listings Under Contract increased 1.5 percent for detached homes but decreased 0.2 percent for attached properties.
The Median Sales Price was up 7.8 percent to $242,500 for detached homes and 2.8 percent to $205,000 for attached properties. Months Supply of Inventory decreased 19.4 percent for detached units and 20.7 percent for attached units.
Although there is a mounting amount of buyer competition during the annual spring market cycle, buyer demand has not abated, nor is it expected to in the immediate future unless something unpredictable occurs. While strong demand is generally considered a good problem to have, it creates an affordability issue for some buyers, especially first-time buyers. And yet, prices will continue to rise amidst strong demand.
MRED real estate professionals can log into MREDLLC.com and click on the Statistics tab to get the latest Lender Mediated and Monthly Market Indicators Reports.  You can also click on the Local Market Updates choice under the Statistics tab and use our Interactive Market Analytics map for the latest local market metrics.
Any questions?  Please contact MRED's Help Desk at 630-955-2755 or help.desk@MREDLLC.com.
If you are considering moving up to your dream home, it may be better to do it earlier in the year than later. The two components of your monthly mortgage payment (home prices and interest rates) are both projected to increase as the year moves forward, and interest rates may increase rather dramatically. Here are some predictions on where rates will be by the end of the year:
"While full employment and rising inflation are signs of a strong economy, they also have the potential to push mortgage rates and house prices up. The higher rates and higher prices create significant affordability concerns, which may continue to characterize the housing market for the rest of 2017."
"By the time we get to the fourth quarter of this year, we will still be under 5 percent – we are thinking 4.7 percent…Something north of 5 percent by the time we get to 2018, and by the time we get to 2019, we show fourth-quarter rates hitting 5.5 percent."
"Despite some regional disparities, title agents and real estate professionals do not expect increasing mortgage rates to have a significant impact on the housing market this spring. Continued good economic news, increasing Millennial demand and confidence that buyers will remain in the market even if rates exceed 5 percent bode well for 2017 real estate."
"We will probably see rates higher at the end of year, around 4.5%."
Bottom Line
If you are feeling good about your family's economic future and are considering making a move to your dream home, doing it sooner rather than later makes the most sense.
Blog Post via KCM Blog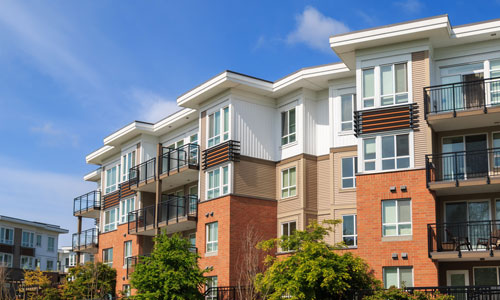 Renters paying the median U.S. rent could afford a house that is 50 percent more expensive than the median U.S. home value, according to a new Zillow study. The study found that with an increase in rent prices across the country and low interest rates, many renters could afford pricier-than-average homes in their current cities without increasing monthly expenses.
Zillow looked at the median rent payment in 50 cities across the United States to see how much home those renters could afford without spending more than they currently spend on rent.
The median rent in the United States was $1,416 in March, which would cover the monthly expenses for a home up to $289,500, which includes the mortgage payment, property taxes, homeowners' insurance and maintenance and renovation expenses. It also assumes a 20 percent down payment, which many first-time homeowners may not be able to provide.
According to Zillow, 57 percent of the available for-sale inventory nationally is listed for under $289,500 and the median U.S. home value was $196,500 in March.
"Renters hesitant to enter the home buying market for fear of not being able to find an affordable home should be encouraged to discover they may have more options than they thought," said Zillow Chief Economist Dr. Svenja Gudell. "However, it's worth noting that many of the more affordable homes for sale may be older, smaller and/or located in less-desirable neighborhoods than they might like."
In Chicago, the average rent in March was $1,650, which would allow those prospective buyers to afford a home up to $337,347. The median home value in March 2017 in the city was $220,900.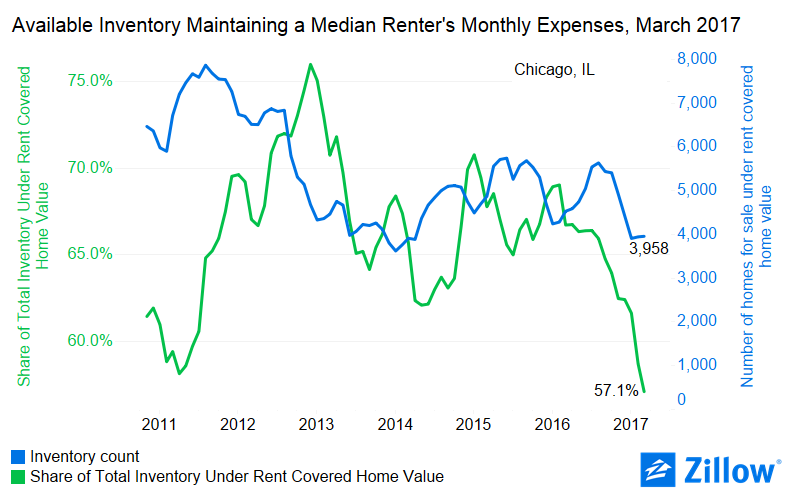 Blog Post via Chicago Agent Magazine
When it comes to buying a home, whether it is your first time or your fifth, it is always important to know all the facts. With the large number of mortgage programs available that allow buyers to purchase a home with a down payment below 20%, you can never have too much information about Private Mortgage Insurance (PMI).
What is PMI?
Freddie Mac defines PMI as:
"An insurance policy that protects the lender if you are unable to pay your mortgage. It's a monthly fee, rolled into your mortgage payment, that is required for all conforming, conventional loans that have down payments less than 20%.

Once you've built equity of 20% in your home, you can cancel your PMI and remove that expense from your mortgage payment."
As the borrower, you pay the monthly premiums for the insurance policy, and the lender is the beneficiary. Freddie Mac goes on to explain that:
"The cost of PMI varies based on your loan-to-value ratio – the amount you owe on your mortgage compared to its value – and credit score, but you can expect to pay between $30 and $70 per month for every $100,000 borrowed." 
According to the National Association of Realtors, the average down payment for all buyers last year was 10%. For first-time buyers, that number dropped to 6%, while repeat buyers put down 14% (no doubt aided by the sale of their home). This just goes to show that for a large number of buyers last year, PMI did not stop them from buying their dream homes.
Here's an example of the cost of a mortgage on a $200,000 home with a 5% down payment & PMI, compared to a 20% down payment without PMI:
The larger the down payment you can make, the lower your monthly housing cost will be, but Freddie Mac urges you to remember:
"It's no doubt an added cost, but it's enabling you to buy now and begin building equity versus waiting 5 to 10 years to build enough savings for a 20% down payment."
Bottom Line
If you have questions about whether you should buy now or wait until you've saved a larger down payment, meet with a professional in your area who can explain your market's conditions and help you make the best decision for you and your family.
Blog Post via KCM Blog